A painter and sculptor, Susanne K. Arnold exhibits her work regionally and nationally. She holds a BFA, an MA in Museum Studies and an MFA in Painting from Virginia Commonwealth University. Honors include a Virginia Museum Fellowship and national artist grants from the Ludwig Vogelstein and the Adolph and Esther Gottlieb Foundations. Solo exhibitions include the Virginia Museum of Fine Arts, the Portsmouth Museum and Artspace Gallery. Her lecture on "Ephemeral Figures in Wax," was presented at the 6th and the 7th International Encaustic Conferences in Provincetown, MA. A retrospective of her artwork was held in 2013 at the McLean Project for the Arts in McLean, Virginia.

Ms. Arnold's work explores the overlay of cultural history and personal experiences, utilizing a vocabulary of images and the ancient painting technique of encaustic. Ms. Arnold has been exploring the encaustic medium since 1963 and has taught it since 1981. She has presented workshops throughout Virginia as an Artist-in-Education for the Virginia Commission for the Arts and has taught state-wide on a contractual basis.
ARTIST STATEMENT
My head has always been crowded with ideas and images, both ancient and contemporary. As a Virginian, it is no accident that images of past and present, memory and imagination overlap in my work, nor that current media stories and pictures of domestic and civil wars, and natural disasters, have resonance in my mind and studio. My art begins and ends with the flotsam, the artifact, the remnant – be it root, stone, rusted metal or beeswax.
Circe's World
Encaustic Assemblages
Group Installation
Odysseus (A Far Country)
Encaustic and found objects
9 x 5.5 x 3 inches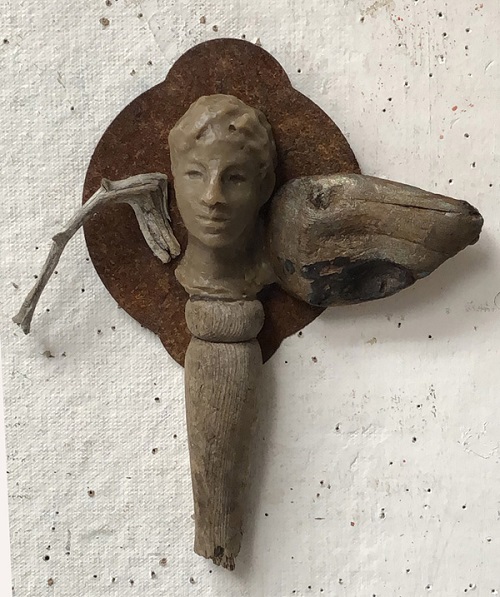 Circe 2
Encaustic and found objects
7.5 x 7 x 2 inches
Telemachus 2
Encaustic and found objects
7.5 x 4 x 2 inches
Blue Skies
Encaustic monotypes
---