Artist Statement
I am so fortunate to live in rural Virginia where I can enjoy the beauty of all four seasons. The light, sky, surrounding landscapes, trees, flowers, and the atmosphere changes so dramatically during each season. These changes provide ample inspiration for my paintings.

I like to draw and paint small works outside and bring those "notes" into the studio for inspiration for the creation of larger paintings. When painting either on canvas or reclaimed materials, I prepare my base coat in various ways to have a fresh and different start with each grouping of paintings. After preparing the surface, then come the layers. I paint, draw, etch, print, and rub different paint and marks on the surface and the compositions. There can be some waiting for drying times, which allows me to sit with them and think about additions and changes that can be made. These paintings are done with a mix of acrylic paint, acrylic mediums, oil sticks, and livestock markers.

I have always enjoyed drawing, painting and printing and have found ways to sometimes incorporate all three into my works. My works are all about the process. The layers of the paintings become intertwined throughout the mark making process. My goal is to capture a place and a moment, or perhaps several minutes of an observers attention to become present and part of the moment with the painting.
---
Spring Pasture, Horse and Birds
acrylic, oil stick, livestock marker
24x24 inches
Three Little Birds
black gesso, acrylic on paper
24x18 inches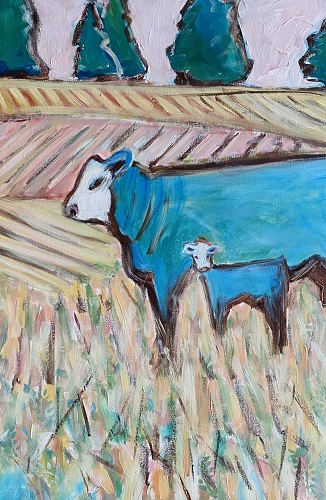 Morning - Cow, Calf, & Fields
acrylic, oil stick
36x24 inches
Horse Reflections
acrylic, oil stick, livestock marker
40x30 inches
Four by the Stream
acylic, oil stick, livestock marker
36x24 inches
Mountain Horses in late Winter
acrylic, oil stick, livestock marker
36x24 inches
Blue Bunny, Pink Sky
black gesso, acrylic, oil stick on paper
24x18 inches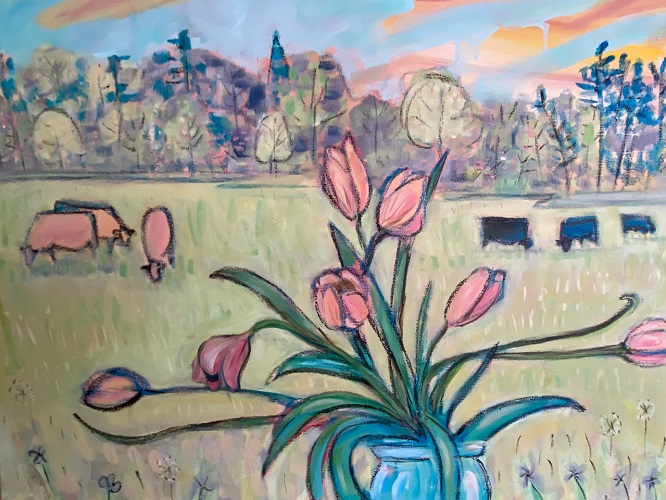 Tulips and Cows at Sunset
acrylic, oil stick, livestock marker
30x40 inches
---